API Tools Setup Wizard
Before any plug-in project can make use of API Tools it must first be set up to use the tooling, which can be done using the API Tools setup wizard.
To activate the wizard use the following steps:
Open the context menu on a plug-in project and select PDE Tools
On the resulting fly-out menu select API Tools Setup...
Option

Description

Default

Choose a project
This text field allows you to filter the current list of projects by their name. Where '*' matches anything and '?' matches any character
Empty
Projects
This list contains all of the projects in the current workspace that can be set up to use API Tools. To be available to be converted a project must be a Java plug-in project.
Select All
Selects all of the projects in the list.
Deselect All
Deselect all of the projects in the list.
Delete component.xml after update is complete

This option will remove the component.xml file from your plug-in project when the setup is complete. A component.xml file was used prior to API Tools to describe the API of your plug-in.

If a component.xml file is found it will be used by the setup wizard to add API restrictions (Javadoc tags) to the corresponding source files in your plug-in. All proposed changes can be viewed on the preview page for the wizard.

On
The first page of the wizard allows you to select projects and set additional options.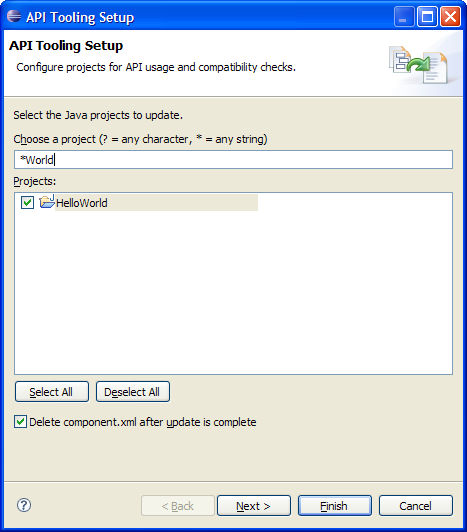 On the preview page you can see all of the changes that will be made to the project and any source files.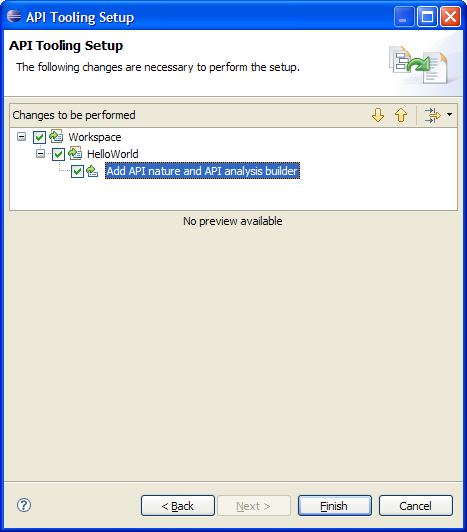 Setting up API Tools
API Tools Setup Action
PDE Tools Menu