OSGi Frameworks Preferences
You can configure the default OSGi Framework for new OSGi Framework launchers using the
Window > Preferences... > Plug-in Development > OSGi Frameworks preference page.
OSGi Framework Selection
All available OSGi Frameworks are listed in the Installed OSGi Frameworks table. To contribute an OSGi Framework, the plug-in containing the framework implementation must contain an org.eclipse.pde.ui.osgiFrameworks extension.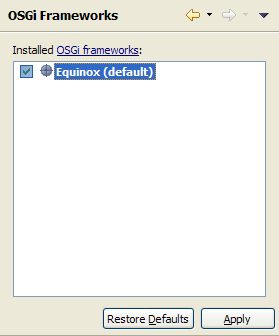 To set a framework as the default for new OSGi Framework launch configurations, select the framework entry in the table and click the Set as Default button.
PDE Preferences