Product Branding
The Branding page gives the product its identity by customizing the window images, About dialog and the welcome experience.
Window Images
The Window Images section specifies the images associated with a product. If the images supplied by you do not match the size requirements, PDE flags a warning at the top of the page.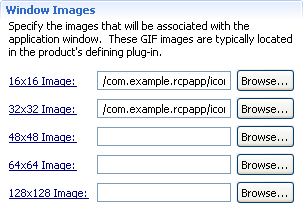 About Dialog
The About Dialog is customiable by providing a custom image and text.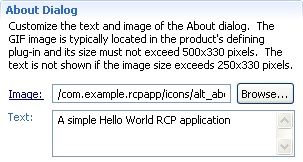 The About dialog text and image are also properties in the org.eclipse.core.runtime.products extension.
Welcome Page
It is recommended to ship a product with its own welcome page to introduce the features of the product to first-time users.

Providing a welcome page (Intro) requires the binding of the product to an org.eclipse.ui.intro extension.
The Intro ID combo box is populated with existing Intro identifiers defined by plug-ins in the workspace and in the target.
You may also create a new Intro on the fly by pressing the New.. button.