Included Plug-ins
The Plug-ins and Fragments page lists all the plug-ins and fragments that should be packaged in the feature and specifies their properties.
Plug-in List
The Plug-ins and Fragments list enumerates all the plug-ins and fragments that are included directly in the feature.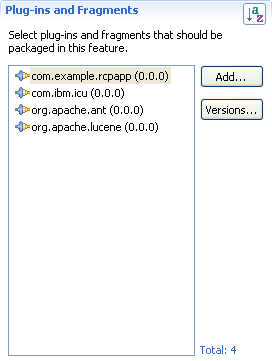 Press the Add... button to browse the list of available plug-ins to add to the list.
The preferred versioning scheme for referenced plug-ins is to give them a 0.0.0 version. This is a special value that will be replaced by the actual plug-in version when the feature is exported. This option is especially convenient when plug-in versions contain a qualifier segment.
Plug-in Details
Plug-in Details are used as guidelines to determine what, when and how to install the plug-ins included by a feature.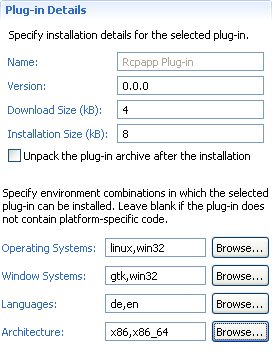 The Download Size and Installation Size are optional hints specified to enable useful user feedback about the feature being installed.
The Unpack the plug-in archive after installation option determines whether a plug-in is to be unpacked (i.e. flattened) or left in a JAR after installation.
If a plug-in or fragment contains platform-specific code, then environment conditions should be specified and associated with that plug-in or fragment.